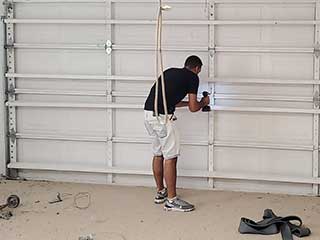 When your garage door or its opener refuse to work like they should, get expert assistance to save yourself time. Whether it's broken garage door parts or some troubleshooting that need to get carried out, the longer you wait, the longer the hassle. With garage door repairs, Rock Hill area customers have a local team of technicians (us!) to turn to for help. We offer our emergency repair services every day, including weekends and holidays. So whenever you've got a garage door problem like broken springs or the opener not working, you can get it solved ASAP.
Can't Open The Garage Door
A problem where the door only lifts halfway up or barely a few feet off the ground, can happen due to a few different issues. The opener travel limit can sometimes be set incorrectly. That means the opener will only raise the garage door to a certain level, and not all the way up. Sometimes it's weak old garage door springs that lack the proper strength to lift the door anymore. Other times it can be the opener chain or other parts of the drive system. Even the garage door lift cables getting snagged or coming off the drum can cause the door not to open. Whatever the cause, our professional Rock Hill garage door repairmen can troubleshoot the issue to find the source of the problem. With our same day repairs, we offer service solutions on the spot to all the nearest areas.
Broken Spring Replacement – Quickest & Cheapest in Rock Hill
With broken springs on your garage door, you'll find the system lacking in strength. That means that lifting the door can be dangerous, as it doesn't have the usual support. Plus, you can damage the cables or the opener when you do that, as they're not meant to bear so much of the load. Garage door spring replacement is not a task you should try to do yourself if you don't have the experience. Replacing broken springs means loading new springs with tension. If this is done incorrectly, it can cause the new garage door springs to break. Naturally, that'd be a dangerous situation, especially if you're standing there. So get this problem solved by Rock Hill garage door spring repair experts and avoid the risks and dangers.
Garage Doors Repaired Today!
No need to wait when trouble strikes. Get help for any issue on the same day you call for it. Garage Door Repair Rock Hill helps customers from all surrounding areas with all types of problems. Call us to get the repairs your garage door needs when it needs them!