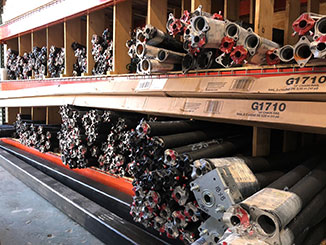 No matter which type of garage door spring you have, we'll be able to get it tended to in no time at all! If you're unsure what kinds there are, you can find out more below!
What Are Torsion And Extension Springs?
The main difference between the two types of garage door spring is in how they create and store the energy that's required to life your door. Extension springs do this by being pulled apart when the door closes, while torsion instead twist up tightly to do so. While they both ultimately achieve the same function, it's still important to note which you have. Extension springs wear out faster due to the stress of being stretched, and may require more tending to and replacements thanks to a shorter lifespan as compared to torsion. The faster any troubles are tended to, the less damage may occur to the door overall, so it's best to be aware and stay on top of things.
Spring Adjustment Or Replacement
Whichever service is needed, our team will have it completed for you right away! Adjustments are sometimes needed to get the spring back into its proper place and ensure the door is working correctly. Replacements, however, come when a spring has worn down too much and is near to breaking if it hasn't already. Switching out springs can be a dangerous process, which is why letting our technicians do it is for the best! We'll get your door working like a charm again in no time.
Service You Can Count On
Our technicians have been working in this field for years, which means that you can rely on us to determine the best solution for any problem. We've seen it all before, so we'll know how to handle it! It's how we're able to offer service that's both fast and thorough so it will last for a long time.
Contact Our Technicians Today
If your garage door is no longer working easily, just call Garage Door Repair Rock Hill! You'll be glad you did.
More Useful Information
My garage door spring tension is weak. What should I do?
If your door is unbalanced and can't open all the way or stay in place while hanging halfway up, then adjusting the spring tension is probably going to solve the problem. However, that's not to suggest that this is something that you should waltz into willy nilly. Garage door springs can be very dangerous to handle, and it's generally better to let professionals handle them when possible.
How can I tell which type of garage door springs I have?
In most cases you will either have torsion or extension springs. Torsion springs are usually installed above the center of the garage door. They're set up horizontally across a steel shaft parallel to the door's width. Extension springs run along either side of the garage door parallel to the horizontal tracks. The location of these units is your best indicator for which type you have. Of course, knowing the type isn't enough when it comes to replacement, as the precise dimensions determine whether or not a spring can support your specific garage door. Don't buy anything you're unsure about. Consult with an expert first.
Need more? We also provide:

Bottom Seal Rubber

Noisy Doors Silenced

Overhead Garage Doors

Door Level Alignment